Hello
I'm having trouble with Neat video 3.5 in Premiere Pro CC 2017. It is not using my GPU and only the CPU. That causes Premiere to crash sometimes when using Neat Video. I guess CPU is saying something like : "hey you lazy little fucker I can't do everything by myself !!!"
In Neat Video pref GPU log shows me this message :
Looking for NVIDIA CUDA-capable devices...
NVIDIA CUDA initialized successfully.
Checking CUDA GPU #1:
GPU device name is: GeForce GTX 1060 6GB
Unsupported compute capability: 6.1
Check failed - will not use the device

Looking for AMD OpenCL-capable devices...
Failed to find AMD/ATI GPU Devices.
If you use an AMD/ATI card, please install the latest AMD driver with OpenCL support.
GPU-Z monitor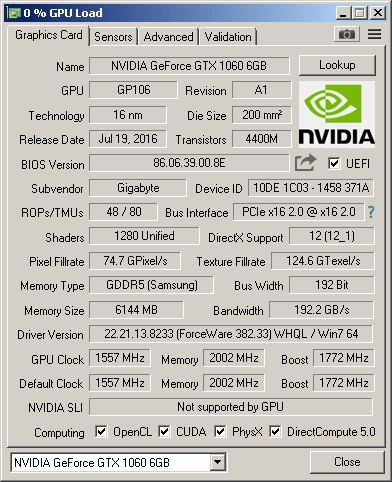 PC configuration :
Intel i7 2600K 3.4GHz
12 Gb DDR3 PC16000
Samsung SSD system 128 Go (and render files on that one)
Ext E-SATA dock with 4To Western caviar black 7200rpm (project and footage)
Geforce GTX1060 6Gb
Let me know if you think of anything